Articles
21 April 2005
Cacti-Redux CD Release
Published: 12 July 2010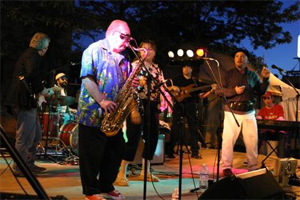 View Magazine
Initially formed as an offshoot from the King Biscuit Boy Band, Trickbag has been laying down the blues for nearly 17 years.

This weekend they offer up their first new recording in eight years, Cacti Redux, that captures a tribute to their past from a recent live performance.
"Not many days go by that I don't think of Richard," reflects Trickbag drummer Paul Panchezak on the January 2003 passing of blues harp legend and friend Richard 'King Biscuit Boy' Newell. "I think of the gigs. I think of the tunes. But most of all, I think of the hearty laughs."

In the middle of an elongated run in the studio with producer Michael J. Birthelmer, Trickbag 2005 (featuring Panchezak, wife Donna on vocals, Larry Fuedo on guitar, harmonica, mandolin, Mike Hickey on bass and Les Smith on vocals, harmonica and guitar) enlisted honorary members keyboardist Jesse O' Brien and saxophonist Sonny Del Rio for a gig last summer.

The Dundas Cactus Festival live recordings offered interesting results. "Our original indention was to record a little souvenir of the show for our own amusement," explains Panchezak.

"The chance to have both Jesse and Sonny on a live gig was the impetus, so we enlisted the help of old friend Mike Birthelmer as well.

"We always love to have Sonny and Jesse sit in with us whenever the budget allows."

Ideally, the Trickbag sound includes keyboards and horns. Our studio albums feature both. Jesse first played with us when he was way too young to get in a bar, and he is prominently featured on piano on our first CD. Sonny and I go way back. We criss-crossed North America in the 1980s with a later version of Crowbar that included Kelly Jay and the King Biscuit Boy.

"In the end, I think this whole CD is kind of a tribute to Richard," Panchezak adds. "Because of the com- mon background Trickbag, Jesse and Sonny have of working with him, we tend to draw heavily on his repertoire when we all get together."

Cacti Redux captures the band swingin', boppin' and shufflin' through a harrowing blues send up of covers - as much inspired as they are inspirational. With the rough and ready recording tactics in lieu of the new all original pending release, Cacti Redux is destined to not only appease but also please long time fans.

"The funny thing is, people have been good-naturedly kidding us about the amount of time we've been work-ing on the studio record," smiles Panchezak.

"In answer to that, we decided to release an album recorded in two hours, mixed in two hours and mastered in two hours. You can't get much more live and spontaneous than that. Even the first Beatles album took twice that long. "We love recording whenever we get the opportunity, but with any kind of live performance there's an exciting and immediate satisfaction to be gained that can't be equalled in any other way," he adds.

"The songs you hear on a Trickbag studio album and the songs you hear at a Trickbag club date aren't generally the same. Whereas the recording  studio affords us the opportunity to utilize sounds and instruments that aren't always possible on a live show, the demands of the typ- ical blues club are for a more rough and ready approach. "We're comfortable in either environment, and our fans have their own preferences.

For those that like the rockin' blues cover tunes we generally play live, we offer this new CD and the CD release party is a chance to hear the CD duplicated indoors."

Trickbag celebrates the release of Cacti Redux this Saturday April 23 AT Milner's with special guests Jesse O'Brien and Sonny Del Rio. $5 gets you in or $20 gets you in with a CD. Show starts at 9:30pm.