The Band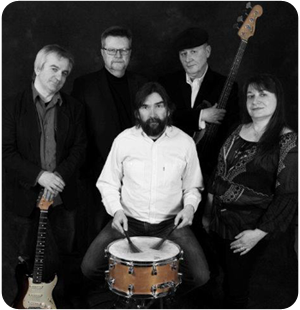 | | |
| --- | --- |
| Donna Panchezak | vocals |
| Rick Miles | bass, vocals |
| Larry Feudo | guitar, harmonica, mandolin |
| Steve Beach | keyboard, vocals |
| Paul Panchezak | percussion |
Honourary Members
Bob Malaryk
Denis Keldie
Guitar Mikey
Jesse O'Brien
John Lewis
"Pendulum" Pete Rihbany

Kelly Jay
Kevin Christoff
King Biscuit Boy
Leo Sullivan
Lindsay Harnett
Sonny Del Rio
Trickbag has been entertaining music lovers live and on record for over two and a half decades. They are now poised to open another exciting musical chapter in their long history. The recent addition of two new members, bassist Rick Miles and Steve Beach, a master of the mighty Hammond organ has revitalized the classic Trickbag sound. They join guitarist Larry Feudo, drummer Paul Panchezak and vocalist Donna Panchezak, veteran members who have been at the helm of the band since its inception.

It's an impressive lineup. Individually and as a group Trickbag has shared the stage with many notable players. Too many to list here. Everyone from Tom Wilson, Dave Rave and Daniel Lanois to King Biscuit Boy, Kelly Jay, Hock Walsh and Garth Hudson, not to mention every degree in between.

Trickbag music crosses many boundaries. It encompasses rocking blues, roots music, classic Americana, soul sounds, delta blues and rhythm and blues with a distinctly southern flavour. So diverse and yet it always sounds like Trickbag. Over the years they have released three acclaimed CDs: Trickbag, Cacti Redux and Tricknology. Cacti Redux and Tricknology were nominated for Hamilton Music Awards and tracks from Tricknology were included as incidental music for the popular television series One Tree Hill, New Girl and Heart of Dixie.

Their recording career is also complemented by many club and concert performances including appearances at the Toronto Harbourfront Blues Festival, the Festival of Friends, It's Your Festival, the Royal Botanical Gardens Jazz and Blues Series, the Burlington and St. Catherines Rib Fests, the Toronto Beaches Jazz and Blues Festival, the Canal Bank Shuffle Fest, the Ancaster Fieldcote Museum Concert Series, the Dundas Cactus Festival, the Blues With a Feeling Tribute to King Biscuit Boy and the Hamilton Westdale Blues and Roots Festival among others. Trickbag has also served as opening act for a number of renowned acts including Downchild, Colin James and Big Sugar.

With the new roster Trickbag is looking forward to new musical adventures that will spark renewed interest from their many fans. In fact they have already embarked on plans for live and studio releases in the not too distant future. No doubt their unique musical voice will be heard and enjoyed for years to come.