News
11 February 2010
Years of Music
Published: 12 July 2010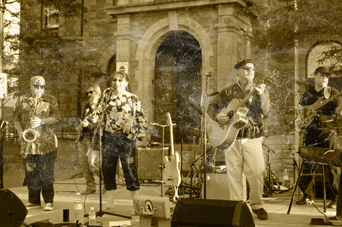 Trickbag's Blues By The Bay After 22 years of making some of the finest blues in Hamilton, Trickbag seem poised to be developing their national name. Featuring Paul Panchezak (drums), wife Donna Panchezak (vocals), Larry Feudo (guitar, harmonica), Mike Hickey (bass) and Les Smith (vocals, harmonica, guitar), this weekend they also offer the start of a new monthly blues music concert series. "I'd have to say getting considerable airplay on CBC radio is pretty gratifying," smiles guitarist Larry Feudo.
"We've also been fortunate to have four songs from the album Trickonolgy in heavy rotation on Stingray Galaxie Digital Satellite. They recently contacted us for composer credits and the news they were using the tunes daily. It got to the point where we'd be on a break at a gig and hear one of our numbers being played on air several times."
The band has also signed a licensing deal with Los Angeles' Aperture Music that gets music in TV and movies like The Big Lebowski and The 40 Year Old Virgin but this weekend Trickbag is live on the stage for the first in a new series of shows that that band hopes will rekindle some of Hamilton's longstanding blues traditions. "The Leander Blues by the Bay shows in the '80s were first started by Crowbar with the help of their friend and manager the late Tom Basciano as a showcase for local blues and roots acts," recalls Feudo.
"The first concerts were all–day affairs featuring the likes of Jackie Washington, Jude Johnson, the John Lewis Band, Guitar Mikey and the Real Thing, Johnny and the Jumpers as well as Crowbar with King Biscuit Boy. Later the Hamilton Blues Society took over the staging of the concerts and the scope expanded to include out of town groups like the Cameo Blues Band and the Paul James Band, as well as international touring acts including Albert Collins and Charlie Musselwhite. Coupling hot blues with the Leander Boat Club – a picturesque location with a distinctly Hamilton flavour – made for a popular concert series that is still remembered fondly by all those who were lucky enough to be there. "George Gage, president of the Leander Boat Club, approached us about doing a monthly show and what with our history of playing there over the years, it was natural to try and get the ball rolling again on a regular basis," he adds.
"The room has a certain vibe working for it that you don't get anywhere else – maybe it's the location by the water or maybe it's something intangible." The recent annual Blues With A Feeling tribute nights in honour of famed singer/harmonica player Richard "King Biscuit Boy" Newell were a resounding success at the charming club at the foot of James Street North, and with a series to feature special guests, the band hopes to create monthly magic.
"In the early days of Grant Avenue Studio, when it was the home base for the Lanois brothers, Dan and Bob, Ed Roth was a musical fixture doing session and jingle work seemingly around the clock," offers Feudo on this month's special guest. "His African Lion Safari jingle is still in use almost 40 years later. Throughout the '70s, he played on hundreds of albums to come out of Grant. Before that, he played in a popular Toronto group that also included Malcolm Tomlinson and a pre–Superfreak Rick James.
His most recent Hamilton appearances were sitting in on accordion with Dave Rave and the Hamilton Tigers group at the Locke Street Festival and on New Year's Eve at Dave's show at Fenian Films. "The point of the show is to bring a guest with a certain expertise and apply it to a tradition that most [View readers] are probably only vaguely familiar with," reasons Feudo.
"This is about a rocking good time featuring New Orleans style music that'll shake off the February blues. We're playing the Mardi Gras tunes associated with the day's theme. You'll hear us do tunes by The Meters, Louis Jordan, Professor Longhair and Trickbag. This is a Mardi Gras/Valentine's dance which comes but once a year. One thing we all shared with King Biscuit Boy was a deep love of New Orleans rhythm and blues and Mardi Gras music, and this is our way of sharing that."
Trickbag's Blues By The Bay for Mardi Gras/Valentine's Day happens this Saturday February 13 at the Leander Boat Club from 9pm to 1am, and $5 gets you in.